Downloadables
---
New Recorder Collection from Plank Road Publishing
All versions now available!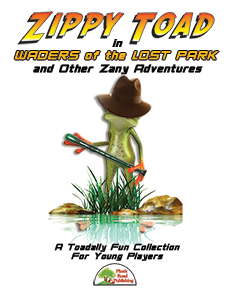 A Toadally Fun Collection For Young Players by Paul Jennings & Friends


Ever since we introduced that wacky toad and his energetic music in the first issue of RECORDER CLASSROOM, he has been a favorite of young players everywhere. So, what can one say of our friend Zippy Toad? A heroic soul, a toad about town, and a connoisseur of fine flies. We all need a good silly song now and again, and these certainly fill the bill at most any time of the year. Read more, listen to audio clips, or order now! >>
---
New Downloadable Kits
Brand New Products
New Recorder Singles
---
Bestselling Downloadables
Singles Kits
In order of popularity.
Song Collections
In order of popularity.
Convenience Combo Kits
In order of popularity.
---
Convenience Combo Kits
See all Convenience Combo Kits >>
An exciting new format that gives you the best of both worlds!

So what is a Convenience Combo Kit? It is a kit that gives you the best of both worlds: a Teacher's Handbook, a CD, and the downloadable version of the music and recordings as PDFs and MP3s. Read more about this exciting new option. >>

We tested this concept first with Recorder Classroom, and about a third of our subscribers chose this option... and seemed to like it a lot, from all we have heard.

This unique format gives you the convenience of downloadable products, but with the feel and usability of real books and CDs as well.

We are now pleased to be offering many of our products with this option. So when you come to our web site, you will find that many products give you three options:

Kit (our traditional kit with a Teacher's Handbook and a P/A CD)

Downloadable Kit (with PDFs and MP3s)

Convenience Combo Kit (Teacher's Handbook, CD, as well as PDFs and MP3s)

These new kits are just a bit more expensive than regular kits, but they give you the convenience of being able to print parts from your computer instead of standing at the photocopier for eons.

Buy online or with a purchase order - As with our downloadable kits, you can buy them at our web site and immediately download the files. We will ship the book and CD soon thereafter. Or you can order by phone, fax, or mail and we will ship you the product and send a link to your e-mail address for the downloadable components.
---