Games For Music
---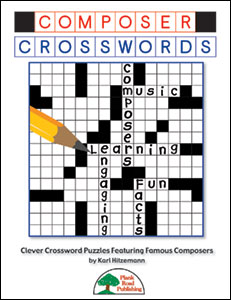 Clever Crossword Puzzles Featuring Famous Composers
This reproducible resource is filled with fun and interesting crossword puzzles that center around a specific composer. They are actually puzzles within puzzles. First, your students can read interesting facts about a "mystery composer." Then, start solving the crossword puzzle (all clues are music-related, of course).
Creative Learning Activities from the pages of Music K-8 magazine
For 25 years, we have invited teachers to share ideas with one another in the pages of our NETWORK section. While these pages include many types of things, some of the most popular are the puzzles and games. In this new book, we are excited to bring you some of the best activities we've found there through the years. It's full of puzzles, word searches, games, and a wide assortment of learning activities that will help reinforce the concepts you are teaching.
---
New in the Marketplace!