Issue Contents For Volume 20, Number 1
About The Music: Click a link to hear an excerpt and read about the song.
Notes About Music K-8 Vol. 20, No. 1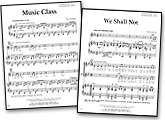 Due to a printer error, certain copies of Music K-8, Vol. 20, No. 1 have white splotches in the piano/vocal parts of these two songs. Instead of throwing away 1000s of magazines, we decided to send the magazines as they are and provide subscribers with a download PDF of the piano/vocal parts. We apologize for the inconvenience.